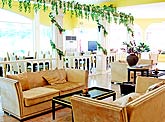 Nourish your senses to the fullest at Lohas Hotel in Clark, Pampanga. Soothing spa treatments are the order of the day here, especially the full body and aromatherapy massages. Our Jjimjilbang – Korea's healthier take on the steam room and sauna – is also a must-try.
Hotel guests can choose among 40 plush yet inexpensive rooms and suites. All accommodations come with air-conditioning, LCD television with cable, Internet access, IDD phone, queen-sized bed, sofa, private bathroom/shower, writing desk, room safe, refrigerator and daily breakfast. Room service is also made available. Other hotel facilities and services include an in-house cafeteria, business center and function rooms, dry-cleaning/laundry and parking.
Address:
E. Aguinaldo St. in Clark Freeport Zone in Pampanga, Philippines
Comparison of crime rates between Philippines Angeles City and Clark Freeport Zone sheds light on the difference between the twin cities of Pampanga. Regular guests of Angeles City Hotels begin to migrate on base into hotels inside Clark Philippines not only for peace and quiet but peace of mind and a sense of safety and security.
It is important to many families to feel safe in a hotel in Angeles Pampanga.  That is one of the main reasons that many tourists and local visitors from Manila choose to stay in a hotel in Clark Freeport Zone just outside Manila Philippines.  Many tourists traveling with families and children do not like the hotels in Subic or some of the hotel in Angeles Pampanga.  The resorts in Philippines Angeles City do not make guests feel comfortable and secure.
The beach resorts, leisure parks and vacation hotels in Clark Pampanga offer a unique ambience that supports a laidback relaxing lifestyle.  Many visitors travel north to Clark Pampanga from Manila to unwind and relax in these resorts.
New developments from Clark Philippines that may be pertinent to businesses and investments in Pampanga Clark Freeport Zone are posted on HotelClarkPhilippines web site.  Clark Philippines is a fast growth economic and business city comparable to Manila Philippines.
Retirement in Philippines is an interesting investment opportunity for foreign companies. Many investors are looking for a destination near Manila that offers safety and quietness to develop residential and retirement projects and Clark Pampanga seems to be an attractive business proposition.  Investment opportunities in Clark Philippines include hotel and resorts, retirement village, vacation rentals, condominiums and other residential projects, and other leisure, tourism and hospitality businesses.  Land in the main zone of Clark Freeport is not easy to find and is not as cheap as before but Clark is still much more attractive compared to other investment destinations in Philippines.
For information as well as assistance with reservations in hotels and resorts in Pampanga, Clark Philippines, <a href="http://www.hotelclarkphilippines.com/?page_id=8″>click here to contact HotelClarkPhilippines now</a>
Or call us at
Hotel Clark Philippines
Creekside Road corner of Centennial Road,
Central Business District, Clark Freeport Zone,
Pampanga, Philippines 2023
Tel: (045)599-5949 0917-520-4403  0922-870-5177
Manila Sales Office
3003C East Tower, Phil Stock Exchange Center,
Exchange Rd Ortigas Metro Manila, Philippines 1605
(632) 637-5019   0917-520-4393  Rea or Chay
<a href="http://www.hotelclarkphilippines.com/">http://www.HotelClarkPhilippines.com</a>
Email:   Info@ClarkPhilippines.com
Getting to this hotel in Clark Philippines
After entering Clark Freeport from Subic, Manila, Dau and Angeles City, proceed straight along Clark's main highway MA Roxas, passing Clark's largest wine shop called Clark Wine Center on your right, continue to bear right making no turns at all, go past Mimosa Leisure Estate on the opposite side of the road, you will hit a major intersection.  Go straight and the road becomes Creekside Road.  YATS Clearwater Resort and Country Club is on your right just 200m down.   Traffic in Clark Philippines is light so it should be quite easy for get to this hotel in Clark Philippines.
YATS Leisure Philippines is a HK-based developer and operator of clubs, resorts and high-class restaurants and wine outlets  <a href="http://www.yatsleisure.com/">http://www.YatsLeisure.com</a>
To inquire with the beach resort hotel in Clark Pampanga visit <a href="http://www.clearwaterphilippines.com/">http://www.ClearwaterPhililippines.com
</a>